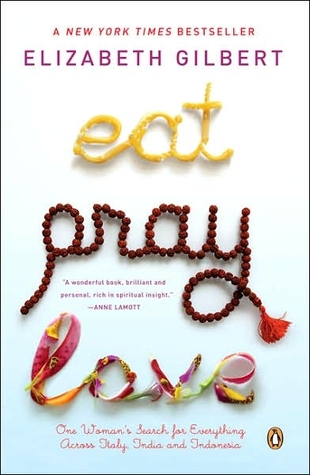 Eat, Pray, Love
Elizabeth Gilbert
Penguin Books
January 30th 2007
331
In her early thirties, Elizabeth Gilbert had everything a modern American woman was supposed to want--husband, country home, successful career--but instead of feeling happy and fulfilled, she felt consumed by panic and confusion. This wise and rapturous book is the story of how she left behind all these outward marks of success, and of what she found in their place. Following a divorce and a crushing depression, Gilbert set out to examine three different aspects of her nature, set against the backdrop of three different cultures: pleasure in Italy, devotion in India, and on the Indonesian island of Bali, a balance between worldly enjoyment and divine transcendence.
my 50 cents about the book
This book took me forever to read which I guess is not a good sign. I decided to read it because I assumed it must be pretty good considering its popularity and ranking but in all honesty I just found it quite challenging to read because I just could not get into it.
On the plus side I like the authors style of writing – witty and great use of metaphorical phrases. The initial build up and the section on Italy were enjoyable but it was the part in India that finished me off. Maybe I could relate to the italian part coming from a part italian backgroumd?! I found the whole section on India irritating and the author came across as a little self-indulgent. I desperately wanted to learn more about India and to imagine the place through the authors description but instead I just grew to hate yoga and chants and meditation.
My intention for reading the book was to learn from the authors style of writing and for this purpose I certainly think that I have. I can appreciate why the book is so appealing to so many but for me it was not enjoyable – maybe it was just not my taste.
Apparently there is a sequel though not sure I will be indulging again :-0
What's on My Facebook?
This message is only visible to admins.

Problem displaying Facebook posts.
Click to show error
Error:
(#803) Some of the aliases you requested do not exist: JJames-Author-511657795666274
Type:
OAuthException
Solution:
See here
for how to solve this error